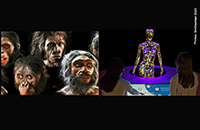 Museums Switching between TikTok-length and Nuance - Currying favour, muddling through, or enlightenment
January 2023. Goals and roles routinely expose museums, their objects, and collaborators to politics. When are facts invalidated or science overridden. With examples of three basic questions museums are expected to answer the introduction to the interview with Dr Rebecca Johnson shows museums' strategies serving publics and politics between currying favours, muddling through, and enlightenment Reference to science is not anymore a sure-fire success, and even natural sciences can be levered out by competitors.
Rebecca Johnson, Chief Scientist National Museum of Natural History of the U.S. Smithsonian Institution describes in the interview with B2Bioworld major challenges and conflicts of modern museums dedicated to the natural world.Reading time: 33 min
Read Now:
1,50 EUR (incl. 7% VAT)




Other articles recommended
B2Bioworld offers you background information
Mario Trapp, Executive Managing Director Fraunhofer Institute for Cognitive Systems on operating safety provisions, and in silico vs real world learning
Gauging political claims and educational objectives for a digital civil society. Extended Book Review. Free access.
Prof Sadao Nagaoka, Institute of Innovation Research, and Chief Policy Adviser to the Japanese Government
Sandro Aruffo, CSO and Robert Berendes, Head of Business Development in conversation with B2Bioworld
Nobel Laureate Prof. Christiane Nüsslein-Volhard Warns of GMO-populism and researchers not standing up