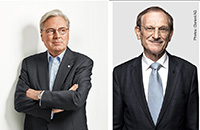 Clariant: Günter von Au expected to succeed Hariolf Kottmann
February 2021. The Chairman of the Board Hariolf Kottmann has informed the Board of Directors in an extraordinary meeting that he will no longer be a candidate for a Member of the Board of Directors nor for the office of Chairman at the upcoming 26th Annual General Meeting in April 2021. Against this background and after intensive discussions, the members of the Board of Directors of Clariant unanimously suggest to the shareholders Günter von Au to be elected as new Chairman of the Board of Directors. Günter von Au has been a member of the Board of Directors since 2012 and acted as Vice Chairman from 2012 to 2018.
By agreeing to the agenda items of the Board of Directors, the anchor shareholder SABIC withdraws its own proposals for the agenda of the Annual General Meeting, which it sent to the Company at the end of December 2020. These included a special dividend distribution to the shareholders of an amount up to CHF 2.00 per share and the amendment of article 20 of the articles of association – introduction of a time limit of 12 years for members of the Board of Directors including the Chairperson. Instead, the requested inclusion of the 12-year period will be anchored in the Bylaws of the Board of Directors.
Source: Clariant International AG
Disclaimer: You agree that B2Bioworld is not responsible and will not be held liable for any third party content on its sites or any third-party content, products or services available on other web sites accessed through links from B2Bioworld sites. Links to third-party sites are for your convenience only, and their inclusion on B2Bioworld's sites does not imply any endorsement, guarantee, warranty or representation by B2Bioworld.
Other articles recommended
B2Bioworld offers you background information
Günter von Au, Member of Clariant AG's Board of Directors
Stefan Marcinowski, Member of the Board BASF SE in conversation with B2Bioworld
Prof Sadao Nagaoka, Institute of Innovation Research, and Chief Policy Adviser to the Japanese Government
John Saul, President of the British Chemical Industries Association on issues of the sector's future
Giorgio Squinzi, President of Mapei SpA and Italy's Federchimica
Timur Erk, President of Turkish Chemical Industry Association TKSD on opportunities and threats
free of charge
An industry perspective and key trends in an emerging lead market - free of charge