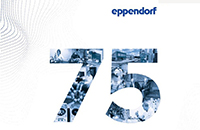 Eppendorf: Stronger Than Ever After 75 Years
May 2021. In fiscal year 2020, Eppendorf AG succeeded in posting record revenue of €967.2m (2019: €803.9m ) – a significant year-on-year increase of 20.3% (2019: 10.2%). EBIT likewise saw a sharp rise of €73.5m to €217.7m (2019: €144.2m), representing an improvement of 51.0% on the prior-year period, while the EBIT margin climbed to 22.5% (2019: 17.9%). Eppendorf, a globally positioned life science company from Hamburg, Germany, thus grew faster than its competitors and can look back on the most successful fiscal year in its more than 75 years of existence.
Global business performance in 2020 exceeds expectations
All market regions developed positively in the past fiscal year, with some posting growth well into the double digits. Business performance in Eppendorf's home market of Europe was particularly strong, clearly exceeding expectations with growth of 27.6% compared with the previous year. Expectations were also exceeded in the Asia/Pacific/Africa region, which significantly outperformed the prior-year period with an increase of 43.4% – the strongest revenue growth in its history. The Americas market region was likewise able to increase its revenue by a very pleasing 11.3% compared with the previous year. Business activities in the market region of China, an important growth market, were impacted severely in the first half of 2020 by a strict, long-lasting lockdown. It is therefore quite remarkable that Eppendorf China was able to fully compensate for the coronavirus-induced revenue slump at the beginning of the pandemic and close the year with a 7.5% gain over 2019.
Source: Eppendorf AG
Disclaimer: You agree that B2Bioworld is not responsible and will not be held liable for any third party content on its sites or any third-party content, products or services available on other web sites accessed through links from B2Bioworld sites. Links to third-party sites are for your convenience only, and their inclusion on B2Bioworld's sites does not imply any endorsement, guarantee, warranty or representation by B2Bioworld.
Other articles recommended
B2Bioworld offers you background information
- open access
Marc Feiglin, at the time Chief Technology Officer Life Sciences at Tecan on electrowetting technology, blood diagnostic devices and prospects of clinical microfluidics
Do's and don'ts developing and selling viable tests for medical, agricultural, or food diagnostics in poor resource countries.
Ulrich Betz, Vice President Department Head Innovation & Entrepreneurship Incubator; Merck Biopharma
Book Review - open access