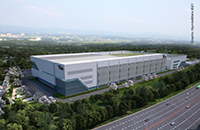 Hyundai Mobis: €938m investment into new H2 fuel cell plants
October 2021. On the occasion of the ground breaking ceremony Hyundai Mobis, the parts and services subsidiary of Hyundai Motor Corporation announced to build two new manufacturing plants for fuel cells and stacks at Chungcheon (see graphic design) and Ulsan (KR) which adds to the existing one at Chungju with 23,000 p.a. The new plants have a capacity of 100,000 units p.a. and will start production in the second half of 2023. Total investment is KWR1,3 tr (€939m; USD1,086bn; £798m).
Fuel cell stacks generate electric energy via electrochemical reaction of H2 and Oxygen. The Cheongna Plant will finish fuel cell stacks supplied by the Ulsan Plant which produces fuel cell systems (stacks, air supply devices, thermal management devices, etc.). Hyundai Mobis already secured to more site to develop for fuel cell production, because it expects substantial growth of the hydrogen industry worldwide. While the new plants will have optimized production lines, plans are to support diversification of hydrogen powered in Hyundai, notably in non-vehicle areas such as logistics and construction, for example H2 generators for forklifts.
Source: Hyundai Mobis Co. Ltd.
Disclaimer: You agree that B2Bioworld is not responsible and will not be held liable for any third party content on its sites or any third-party content, products or services available on other web sites accessed through links from B2Bioworld sites. Links to third-party sites are for your convenience only, and their inclusion on B2Bioworld\'s sites does not imply any endorsement, guarantee, warranty or representation by B2Bioworld.
B2Bioworld Comment
Japanese fuel cell and vehicle manufacturers take advantage of Shell's built up of hydrogen refueling infrastructure funded by California

October 2021. March of this year Hyundai Motor Co. signed a five-year global agreement with Royal Dutch Shell plc for access to clean energy infratsructure and supplies. Under the terms Hyundai Motor North America is part of the "Shell Multi-Modal Hydrogen Refueling Station" baptized "Project Neptune" in California (US). Project Neptune (ARV-21-023) is implemented Equilon Enterprises LLC (Equilon) aka Shell Oil Products US and funded by the California Energy Commission (CEC) with $4m. These add up to two preceding grants, one in 2017 for establishing seven stations, and another $7.3m for the first H2 stations out of 51 proposed in December 2020. With these preceding fundings Equilon commits to set up 48 new H2-refueling stations, to upgrade two existine ones, add light duty fueling dispensers and positions and equip another current station for heavy trucks. According to Shell the additional $4m of CEC are for hydrogen stations which serve on-road heavy-duty vehicles and locomotives powered with hydrogen fuel cells in California (Projects at Port of West Sacramento and Sierra Northern Hydrogen Locomotive). The program is managed by Shell New Energies at San Francisco.

Equilon and its sister company Motiva (joint venture of Shell & Aramco, SAE) run the companies' gasoline retail business in the United States where Equilon currently operates 6,000 gas stations. Hyundai joins Toyota and Honda which also manufacture fuel cells, and agreed with Equilon to use its hydrogen refueling stations. CEC has at its disposal a clean transportation budget of $100m of which it has to spend $20m per year for developing up to a total of 100 hydrogen stations until 2024. These Californian grants are based on a CEC report (Bedir et al 2018) which outlines the State's future infrastructure needs for electric vehicles. eds.

Reference
Bedir A, Crisostomo N, Allen J, Wood E, Rames C (2018): California Plug-In Electric Vehicle Infrastructure Projections: 2017-2025. August 16. California Energy Commission.
Other articles recommended
B2Bioworld offers you background information
Giorgio Squinzi, at the time President of Italy's Confindustria and construction chemicals corporation MAPEI SpA
Meeting safety AND performance criteria despite puzzles
- open access
Masoud Abka, Business Developer for MIDHCO and Member of the Board of IMIDRO on industry strategy and the business case for foreign investors
Safety and responsibility in designing, manufacturing, and operating autonomous agromachines
Prof Sadao Nagaoka, Institute of Innovation Research, and Chief Policy Adviser to the Japanese Government