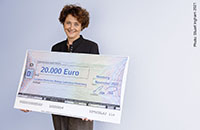 Eppendorf: Signaling Donation to EMBL's LEAP programme
November 2021. The Hamburg-based instrument manufacturer donated 20,000 Euros (US$22,445; £16,865) to the European Molecular Biology Laboratory (EMBL). The funding goes to EMBL's LEAP project which empowers women scientists for managerial careers in scientific fields. LEAP is the Leadership and Excellence for Aspiring Postdocs sponsorship programme for women postdocs aspiring to leadership positions in academia and industry.
Paving the Way to Leadership
Edith Heard, Director General of the EMBL received with pleasure the gift which she called an important signal to offset the disparity of gender-specific imbalance in management positions. LEAP is managed by the EMBL Office for Equality, Diversity and Inclusion (EDI) and started in 2021. Eppendorf's donation will contribute to fund LEAP 2. It supports twenty women postdocs who receive mentoring and coaching in leadership for nine months. Roshni Mooneeram, Head of EDI said that LEAP 2 «has been a success with many of our postdocs finding leadership positions in science by the end of the course.»
Increased visibility for women in science
Inclusion and diversity are important issues at the Eppendorf Group, said Eva van Pelt, Co-CEO of Eppendorf SE: "Solidarity, tolerance and diversity are the defining features of the cosmopolitan culture that Eppendorf fosters and the foundation of the company's success. The disparity between the number of men and women who hold managerial positions in the scientific community is a serious problem. Increasing the visibility of women in science is both a declared goal and an important concern at Eppendorf."
EMBL and Eppendorf: long-time partnership
The EMBL and the Eppendorf Group share a joint history based on many years of collaboration in the area of corporate partnership programs. In addition, the presentation ceremony for the coveted Eppendorf Award for Young European Investigators has been held at the EMBL in Heidelberg for 10 years. The award is presented to recognize world-class performance in life science research by young scientists.
Source: Eppendorf SE
Disclaimer: You agree that B2Bioworld is not responsible and will not be held liable for any third party content on its sites or any third-party content, products or services available on other web sites accessed through links from B2Bioworld sites. Links to third-party sites are for your convenience only, and their inclusion on B2Bioworld's sites does not imply any endorsement, guarantee, warranty or representation by B2Bioworld.