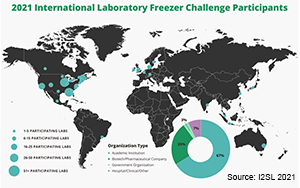 Eppendorf: International Freezer Challenge 2022 Join In!
January 2022. Global warming is a challenge for mankind – COP26 at Glasgow just reminded us again. Sustainability discussions primarily focus on energy consumption. There is no exception for laboratory devices. Even the most environmentally friendly and energy-efficient ultra-low temperature freezers still require a significant amount of energy to maintain extremely low temperatures of -80°C, 24 hours a day, 7 days a week, for years.
Non-profit organisations My Green Lab and the International Institute for Sustainable Laboratories (I2SL) have partnered again to reward the best concept to improve cold storage regarding sustainability: The Freezer Challenge 2022.
Users can earn points by taking actions from good management practices, temperature tuning, and other areas, as well as for sharing information about best practices. Awards will be given to those who have done the most to save energy and improve their sample storage.
In 2021 over two-hundred and twenty-two laboratories completed the competition, representing 113 different research institutions from around the world, and saving a combined ~4.3 million kWh/year, up from 3.2 million kWh/year in 2020. This is the equivalent to reducing carbon emissions by 3,000 metric tons per year. Since last year multiple Lab Awards per research sector are offered, recognizing small, medium, and large labs (by number of lab members), as well as biorepositories/core facilities.
Based on our environmental responsibility and the performance of our freezers Eppendorf is proudly sponsoring the 2022 International Freezer Challenge the fifth time in row since its start in 2018.
Source: Eppendorf SE
Disclaimer: You agree that B2Bioworld is not responsible and will not be held liable for any third party content on its sites or any third-party content, products or services available on other web sites accessed through links from B2Bioworld sites. Links to third-party sites are for your convenience only, and their inclusion on B2Bioworld's sites does not imply any endorsement, guarantee, warranty or representation by B2Bioworld.
Other articles recommended
B2Bioworld offers you background information
Book Review - open access
26 years of annual awards. A virtual ceremony offers an occasion to pause and reflect - open access