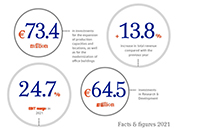 Eppendorf: Proud Results 2021
> Consolidated revenue rises by 13.8% to €1.1 billion
> Operating profit reaches €272 million
> EBIT margin improves to 24.7%
> Positive trends in all market regions and product groups
> Research and development (R&D) investment 15.6% above prior year

Hamburg, May 2022. During fiscal year 2021, the Eppendorf Group saw its consolidated revenue climb to €1.1bn (US$1.16bn; GB£0.94bn; prior year: €967.2m), amounting to an increase of 13.8% (prior year: 20.3%). Operating profit also rose significantly in 2021, reaching €272m (prior year: €217.7m) with an EBIT margin of 24.7% (prior year: 22.5%).
The development of all four market regions is especially satisfying; their revenues grew in some cases very significantly. Of particular note are the remarkable revenue increases in the Asian market regions: Asia/Pacific/Africa (APA) boosted its revenue 23.0% over the prior year, and China performed similarly, gaining 20.4% over the prior year. The Europe market region likewise enjoyed positive development during the reporting period, achieving gains of 13.2% over the prior year despite 2020's strong growth in revenue. The same is true for the Americas market region, which was able to take advantage of the supply problems affecting some of its competitors and once again record gains of 7.9%.

Outlook for 2022
Eppendorf assumes that the entire year 2022 will be characterized by continued high global demand for laboratory devices, materials and services and regards itself as very well positioned for this development with its portfolio of products, services and solutions. Over the course of the year, the demand for product groups that are currently very highly sought is likely to normalize, and accordingly, the company anticipates moderate growth in revenue in 2022.
Source: Eppendorf SE
Disclaimer: You agree that B2Bioworld is not responsible and will not be held liable for any third party content on its sites or any third-party content, products or services available on other web sites accessed through links from B2Bioworld sites. Links to third-party sites are for your convenience only, and their inclusion on B2Bioworld's sites does not imply any endorsement, guarantee, warranty or representation by B2Bioworld.