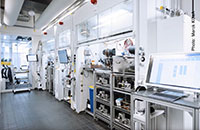 Merck: Globally automating its electronics laboratories to interact with production and R&D
July 2022. Merck KGaA announced its intention to automate the global laboratory environment of its Electronics business sector in addition to digitalizing production.
When selecting system partners for its automation solutions, Merck attaches the greatest importance to open platforms and the independence of individual applications. For this reason, Merck and Siemens started a modularization project in 2021 for production facilities that manufacture innovative materials and products in the three business sectors Healthcare, Life Science and Electronics. Independent of this, Merck has taken a further step, introducing an automation software to the research and development laboratories of the Electronics Technology Center at its global headquarters in Darmstadt. This automation software will now be implemented globally in numerous other laboratories. This should result in a more efficient interaction between production and research and development (R&D) and accelerate the market launch of new products by up to 50%.
Merck is relying on an industry standard called Module Type Package (MTP) that enables all the equipment within a central control system to communicate independently of the typically fragmented hardware and software landscape in use. Individual work steps are saved in completed modules and researchers can repeatedly and quickly combine them into new applications and processes in just a few clicks and without the need for programming knowledge. One important benefit is that MTP modules can be transferred seamlessly from the laboratory to production. Formulas currently being developed in the laboratory can immediately enter mass production without the need to waste effort on manually reconfiguring the production lines.
Source: Merck KGaA
Disclaimer: You agree that B2Bioworld is not responsible and will not be held liable for any third party content on its sites or any third-party content, products or services available on other web sites accessed through links from B2Bioworld sites. Links to third-party sites are for your convenience only, and their inclusion on B2Bioworld\'s sites does not imply any endorsement, guarantee, warranty or representation by B2Bioworld.
Other articles recommended
B2Bioworld offers you background information
Ulrich Betz, Vice President Department Head Innovation & Entrepreneurship Incubator; Merck Biopharma
Gauging political claims and educational objectives for a digital civil society. Extended Book Review. Free access.
Andrew Bulpin, Global Head of Merck Millipore Process Solutions on strategy, competitors, and the road ahead