Eppendorf: Without Detour in Asia Singapore
August 2022.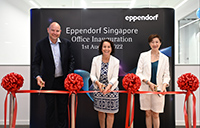 The globally active Eppendorf Group continues its growth track in Asia in a targeted manner and has opened a new site in Singapore. The new subsidiary is in the heart of Singapore's modern Biopolis science center and offers attractive office workplaces for sales and service activities, a modern pipette calibration laboratory and a demo laboratory. Here high-quality laboratory services, which include extensive customer training and maintenance offerings, are provided.

Customer centricity through customer proximity
Eppendorf's new site is located within Singapore's Biopolis science center, which focuses on biomedical research projects and enables close cooperation between public and private scientific institutions. In addition to modern office space, there is a service center for all Eppendorf equipment, offering repairs, calibrations and validations, as well as a state-of-the-art calibration laboratory for pipettes. The additional purpose-built Bioprocess Center provides scientific and technical support to customers and partners throughout the Asia-Pacific region.

This increased proximity to customers also includes the establishment of a modern and new central warehouse in Singapore. This will make the city-state the logistics hub for Southeast Asia with immediate effect, offering all customers in the region even faster and more reliable delivery.
Source: Eppendorf SE
Disclaimer: You agree that B2Bioworld is not responsible and will not be held liable for any third party content on its sites or any third-party content, products or services available on other web sites accessed through links from B2Bioworld sites. Links to third-party sites are for your convenience only, and their inclusion on B2Bioworld\'s sites does not imply any endorsement, guarantee, warranty or representation by B2Bioworld.
Other articles recommended
B2Bioworld offers you background information
MRC Scientist Kelly Nguyen wins prestigious Eppendorf Award. Unresolved questions remain, while Brexit is looming in UK research.
26 years of annual awards. A virtual ceremony offers an occasion to pause and reflect - open access