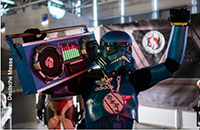 Deutsche Messe: Expectations outpaced for 2022
• Revenue and earnings in 2022 above budget
• Revenue growth to EUR 280 million in 2023
• Sustainability is a key issue for the future
February 2023. Deutsche Messe AG draws a positive balance for fiscal year 2022. After a pandemic-enforced hiatus which meant that the first trade shows and events were only able to be staged from the second quarter of the year onward, virtually all those held on the Hannover exhibition grounds outpaced the initial expectations. Over the course of the year, around 17,000 exhibiting companies and 1.9 million attendees took part in the 73 trade shows and events organized by Deutsche Messe AG in Germany and abroad. At EUR 202 million, revenue exceeded the budgeted levels by approximately EUR 5 million. There was an even more positive trend on the earnings side: instead of the EUR -52 million forecast at the beginning of the year, the loss is expected to be less than -15 million euros. In addition, Deutsche Messe has succeeded in extending long-term contracts with important guest-event organizers (e.g. EUROBlech) and attracting new events (e.g. DreamHack).
Bright outlook and sustainability goals for 2023
2023 will see Deutsche Messe AG present around 90 trade shows and events in Germany and abroad, and increase its revenue to EUR 280 million.
Sustainability is a cornerstone of the company's strategy and a key issue for the future. With the topic of scaling back CO2 generation and emissions in mind, Deutsche Messe has, for instance, obtained its entire electricity supply via hydroelectric power since 2018, making for savings of around 40,000 metric tons of CO2 to date. This year will see the installation of a photovoltaic system on Hall 19/20 also planned for 2023.
Source: Deutsche Messe AG
Disclaimer: You agree that B2Bioworld is not responsible and will not be held liable for any third party content on its sites or any third-party content, products or services available on other web sites accessed through links from B2Bioworld sites. Links to third-party sites are for your convenience only, and their inclusion on B2Bioworld\'s sites does not imply any endorsement, guarantee, warranty or representation by B2Bioworld.