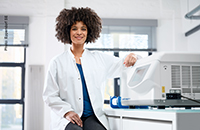 Eppendorf: 1st centrifuge in the market to get green label ACT
March 2023. The Eppendorf refrigerated Centrifuge 5910 Ri has been certified with an "ACT®" Environmental Impact Factor Label by the "My Green Lab®" non-profit organization. By emphasizing Accountability, Consistency, and Transparency (ACT) around manufacturing, energy and water use, packaging, and end-of-life, the ACT label makes it easier for labs to choose more sustainable products. ACT-labeled products are independently audited by the Sustainability Management & Strategy Collaborative (SMSC, a consulting firm for sustainable management practices) and published by My Green Lab.
With innovative features such as a user-friendly touch operation, the universal rotor- and adapter system and a wide range of rotors, Centrifuge 5910 Ri helps to make daily separation tasks easier. With regular maintenance and inspection, it can serve scientists for many years.
The Eppendorf Centrifuge 5910 Ri is the first centrifuge in the market to be certified with an ACT label, with more centrifuges to be certified in the near future.
Eppendorf is committed to continuously improve the environmental impact of its business activities. The company has already implemented several steps such as manufacturing all benchtop centrifuges in modern facilities that are powered by 100% renewable energy, the reduction of air-freight shipping by more than 60% to reduce the CO2 footprint and increasing the share of recycled material in the packaging.
Source: Eppendorf SE
Disclaimer: You agree that B2Bioworld is not responsible and will not be held liable for any third party content on its sites or any third-party content, products or services available on other web sites accessed through links from B2Bioworld sites. Links to third-party sites are for your convenience only, and their inclusion on B2Bioworld\'s sites does not imply any endorsement, guarantee, warranty or representation by B2Bioworld.
Other articles recommended
B2Bioworld offers you background information
Currying Favour, Muddling Through, or Enligthenment. Accompanied by the interview with Rebecca Johnson, Chief Scientist U.S. National Museum of Natural History Smithsonian Institution