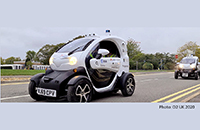 O2 UK: 5G & satellite lab to test autonomous vehicles
October 2020. O2 announces the launch of the first commercial laboratory for 5G and satellite communications in the UK as part of Project Darwin, a four-year trial programme supported by O2 and the European Space Agency and based in the Harwell Science and Innovation Campus in Oxfordshire. The laboratory, named the Darwin SatCom Lab, is now open to companies looking to explore next generation connectivity solutions for connected and autonomous vehicles.
By using satellite imagery to see the areas the vehicles are travelling through and monitor local biodiversity, the laboratory team is able to calculate the emissions savings of taking different routes based on carbon capture from nearby trees. This research will inform how O2's retail partners carry out last mile deliveries, bringing goods such as groceries directly to their customers.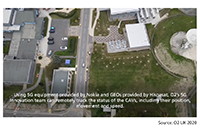 Using 5G equipment provided by Nokia and geosynchronous communications satellites (GEOs) provided by Hispasat, the Spanish satellite operator, O2's 5G Innovation team can remotely track the status of the CAVs, including their position, movement and speed. A digital twin version will also be broadcast to screens in O2's laboratory at the University of Glasgow. At the site, O2 has already converted two Renault TWIZY electric cars into driverless cars – dubbed 'Connected Autonomous Vehicles' or CAVs – that are fitted with LIDAR sensors which allow them to be controlled from the Lab and driven around the Campus These cars are available to test proofs of concept.

Using both 5G and satellite communications, the Lab is the latest innovation to be announced as part of Project Darwin, supported by the European Space Agency and O2.
Source: O2 Ltd./ UK Government / European Space Agency
Disclaimer: You agree that B2Bioworld is not responsible and will not be held liable for any third party content on its sites or any third-party content, products or services available on other web sites accessed through links from B2Bioworld sites. Links to third-party sites are for your convenience only, and their inclusion on B2Bioworld's sites does not imply any endorsement, guarantee, warranty or representation by B2Bioworld.