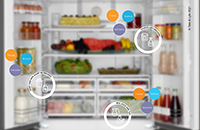 Tate & Lyle: "Collaborate at Home Kitchen" Engagement for Food Formulators
March 2021. "Collaborate at Home Kitchen" is a digital engagement hub where food and beverage manufacturers can explore trends, science and solutions that power modern consumer choices. The hub also provides users with access to Tate & Lyle's experts, as well as additional resources to help them find solutions to their formulation challenges.
The hub is a convenient tool focusing on what is most important to food and beverage manufacturers: their end consumers. It will be continuously updated with new information and insights, guides users through a sleek and modern virtual kitchen where they can click on various food and beverage hotspots to get a taste of Tate & Lyle's thought leadership and category solutions.
According to its proprietary research, 81% of US consumers are reading nutrition labels, with 79% reading the list of ingredients. This is causing formulators to adapt and appeal to constantly evolving consumer needs and consumption changes. The clickable content available in the virtual kitchen highlights
The introduction of the hub reinforces Tate & Lyle's commitment to its purpose of Improving Lives for Generations. By exploring different food and beverage areas in the kitchen, visitors can fill their digital grocery bag. Once full, Tate & Lyle will donate 40 meals to the Northern Illinois Food Bank, with a target of providing a total of 40,000 meals to families in need.
Source: Tate & Lyle plc
Disclaimer: You agree that B2Bioworld is not responsible and will not be held liable for any third party content on its sites or any third-party content, products or services available on other web sites accessed through links from B2Bioworld sites. Links to third-party sites are for your convenience only, and their inclusion on B2Bioworld's sites does not imply any endorsement, guarantee, warranty or representation by B2Bioworld.
Other articles recommended
B2Bioworld offers you background information
A self-critical industry survey points to shortcomings on the supply side
Danish Harboes Brewery is placing a bet on savings
Jörg Riesmeier, Direvo's New COO on near- to mid-term strategies