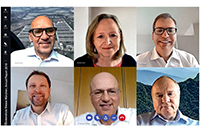 Messe München: Pandemic Skid Marks In The Board
April 2021. The dramatic impact of the COVID-19 pandemic has required Messe München to reorganize the company and reduce the size of its six-member Board of Management. In the wake of the dramatic plunge in revenue and the long-term changes caused by the pandemic, Messe München GmbH has been forced to take a comprehensive range of steps to safeguard the company's future. As part of this process, the company has systematically reshaped its business model, expanded its digital formats and intensified its focus on customers. At the same time, the company is restructuring its organization with the aim of increasing its agility, flexibility and efficiency.
As of July 01, 2021, the company's Board of Management will be composed of Klaus Dittrich, Chairman and CEO, Dr. Reinhard Pfeiffer, Deputy Chairman of the Board, and Stefan Rummel. Falk Senger and Monika Dech will leave the Board of Management on July 01, 2021. They will then return to their previous positions as authorized signatories and department heads. They will remain members of the company's management. Gerhard Gerritzen will retire on August 01.
Source: Messe München GmbH
Disclaimer: You agree that B2Bioworld is not responsible and will not be held liable for any third party content on its sites or any third-party content, products or services available on other web sites accessed through links from B2Bioworld sites. Links to third-party sites are for your convenience only, and their inclusion on B2Bioworld's sites does not imply any endorsement, guarantee, warranty or representation by B2Bioworld.