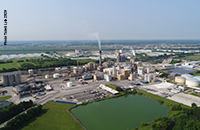 Tate & Lyle: Delivers on promise to eliminate coal-based energy in its plants
November 2021. UK headquartered food and beverage ingredients company announces that it has delivered on its commitment to eliminate the use of coal-based energy in all its operations across the world. This commitment, targeted for delivery by 2025, has been met four years ahead of schedule.
This marks the completion of a multi-year capital investment programme totalling more than US$150 million to significantly reduce greenhouse gas emissions and increase efficiency in Tate & Lyle's plants. This has been achieved primarily by replacing coal systems with natural gas-fired combined heat and power systems at four corn wet mills in the US in Loudon, Tennessee, Decatur, Illinois and both plants in Lafayette, Indiana. The Sagamore plant in Lafayette decommissioned its coal system in 2014, followed by Loudon in 2017, then the Lafayette South plant earlier this year. With the decommissioning of the final coal system at the Decatur, Illinois plant last month, Tate & Lyle delivered on its commitment.
As well as delivering significant environmental and economic improvements, the elimination of coal-based energy at these sites means less water will be used and local communities will benefit from improved air quality and less truck traffic.
Source: Tate & Lyle plc
Disclaimer: You agree that B2Bioworld is not responsible and will not be held liable for any third party content on its sites or any third-party content, products or services available on other web sites accessed through links from B2Bioworld sites. Links to third-party sites are for your convenience only, and their inclusion on B2Bioworld\'s sites does not imply any endorsement, guarantee, warranty or representation by B2Bioworld.
Other articles recommended
B2Bioworld offers you background information
An industry perspective and key trends in an emerging lead market - open access
Peter Nagler, Head of International Innovation Evonik Industries anchors the topic in internationalisation strategies while not losing societal support
Insights and Experience viewed from Evonik Industries
- open access
David Nicholson, CSO Bayer CropScience on Hidden Potentials, Re-valuation of IP Assets, and Substantial Changes in R&D
Danish Harboes Brewery is placing a bet on savings