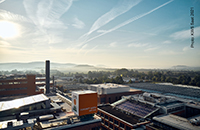 KWS Saat: Changing of the Guard
October 2021. Seed specialist KWS, Einbeck (DE) will be initiating a generational change to be implemented in several steps. Continuity, family tradition and expertise are the focus of the future Supervisory and Executive Board line-ups.
Andreas J. Büchting (74), Chairman of the Supervisory Board of KWS SAAT SE & Co. KGaA and general partner KWS SE, will resign from his position as scheduled at the end of his period in office in December 2022. At the request of the KWS SE family shareholders Büchting and Oetker, the current spokesperson of the Executive Board, Hagen Duenbostel (51), will be recommended as his successor starting in 2025 at the Annual Shareholders' Meeting on December 6, 2022, and will subsequently begin the customary two-year cooling-off period on this date. It is intended that the former spokesperson of the Executive Board, Philip von dem Bussche (71), will assume the office of Chairman of the Supervisory Board on an interim basis through the end of 2024.
Felix Büchting (47) will succeed Hagen Duenbostel as the Executive Board spokesperson. With these decisions, the two top management positions will be filled for the long term.

Overview of the intended changes in the Executive Board and areas of responsibility
- End of 2021: Léon Broers will leave the KWS Executive Board as scheduled. Felix Büchting will assume responsibility of Research and Breeding. Peter Hofmann will assume responsibility of Cereals, Vegetables, Oilseed Rape/Special Crops & Organic Seed.
- January 2022: Nicolás Wielandt, currently Head of Corn Europe, will join the KWS Executive Board. He will take over responsibility for Corn Europe (Peter Hofmann) and Corn South America (Hagen Duenbostel).
- Fiscal Year 2021/2022: Responsibility for Corporate Governance, Compliance and Risk Management will be allocated to CFO Eva Kienle.
- January 2023: Felix Büchting will assume the position Spokesperson of the Executive Board and responsibility for Group Strategy from Hagen Duenbostel. Nicolás Wielandt will take charge of Corn North America and Corn China and will therefore be responsible for the entire Corn segment.
Source: KWS SAAT SE & Co. KGaA
Disclaimer: You agree that B2Bioworld is not responsible and will not be held liable for any third party content on its sites or any third-party content, products or services available on other web sites accessed through links from B2Bioworld sites. Links to third-party sites are for your convenience only, and their inclusion on B2Bioworld\'s sites does not imply any endorsement, guarantee, warranty or representation by B2Bioworld.
Other articles recommended
B2Bioworld offers you background information
Governance, anti-corruption, agriculture, digitization, citizen engagement, freedom of press, AMIS and Georgia
Nobel Laureate Prof. Christiane Nüsslein-Volhard Warns of GMO-populism and researchers not standing up
A Practice View from Crop Research and Breeding with methods competitive with CRISPrs - even in 2021.
Open letter by Esko Aho, Marc Palahí, and Göran Persson - open access
Sandro Aruffo, CSO and Robert Berendes, Head of Business Development in conversation with B2Bioworld
Giorgio Squinzi, at the time President of Italy's Confindustria and construction chemicals corporation MAPEI SpA
- open access
Science can be fun to read, but be aware. Book Review - open access
Vladimir O. Popov, Director Bach Institute of Biochemistry, Moscow and EU liason person