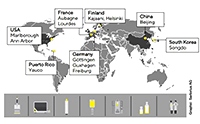 Sartorius: Capacity Expansion in Biopharma with RoosterBio
January 2023. The Sartorius Group, a leading provider of laboratory instruments, consumables, and bioprocess solutions extended a strategic collaboration with American RoosterBio, Inc. to address purification challenges and establish scalable downstream manufacturing processes for exosome-based therapies.
Through this collaboration partners will provide expertise for a human mesenchymal stem/stromal cell (hMSC) - based exosome production platform. Additionally, this collaboration will focus on the development of analytical techniques for the characterization of exosomes and the entire spectrum of extracellular vesicles (EVs) to establish quantitative strategies for quality control of exosome purification intermediates and final drug product. Collaboration between Sartorius and RoosterBio in the field of Cell and Gene therapy has existed for almost two years for the industrialization of cell-based regenerative cures. Both companies will leverage the data from this collaboration to provide application notes, technology presentations, and other guidance materials.
Source: Sartorius AG
Disclaimer: You agree that B2Bioworld is not responsible and will not be held liable for any third party content on its sites or any third-party content, products or services available on other web sites accessed through links from B2Bioworld sites. Links to third-party sites are for your convenience only, and their inclusion on B2Bioworld\'s sites does not imply any endorsement, guarantee, warranty or representation by B2Bioworld.
Other articles recommended
B2Bioworld offers you background information
Oscar-Werner Reif, CSO Sartorius Stedim
Kurt Stoeckli, Global Head of Biological Sciences / Discovery Sanofi Aventis
Andrew Bulpin, Global Head of Merck Millipore Process Solutions on strategy, competitors, and the road ahead
Jonathan K. C. Knowles, at the time Head of Roche Group Research - open access