Eppendorf: From 2024 New Production Operation at 平湖 (浙江)
February 2023. Eppendorf Group is expanding its production operation in the Chinese market. The company signed a contract for a new production site at Pinghu, Zhejiang province where Eppendorf centrifuges will be made for the local market. The Group already generates about 15 percent of its consolidated revenue in China – and further growth is expected. Centrifuges are the primary product of Eppendorf's Separation & Instrumentation Business Division.
The signing ceremony was attended by key members of Eppendorf's planned Technology Center China (TCC), of the Pinghu Economic Development Zone (PEDZ) as well as local party cadres of the Chinese Communist Party (CPC).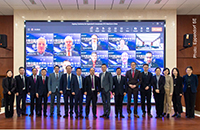 Left to right:
1. Yejuan Shen, Deputy Secretary of CPC of PEDZ, Deputy Director of PEDZ;
2. Jie Shen, Director of Pinghu Market Supervision and Administration Bureau
3. Yuegen Wu, Director of Municipal Party Committee Office of Pinghu
4. Huigang Chen, Deputy Secretary of CPC of PEDZ, Director of PEDZ
5. Jason Lu, TCC Project GPI Workstream Leader Eppendorf
6. Jinhua Wu, Director of Standing Committee of Pinghu Municipal People's Congress
7. Frank Zhao, TCC Project Leader, Designated GM TCC NewCo in PEDZ
8. Xudong Zhong, Secretary of Pinghu Municipal Committee of CPC
9. Wilson Wang, SVP Managing Director of Market Region China
10. Jinping Yang, Deputy City Mayor of Pinghu Municipal Government
11. Lukas Hild, TCC Project R&D Workstream Leader Eppendorf
12. Bo Li, TCC Project Quality Management Regulatory Affairs Workstream Leader
13. Clara Liang, Finance Director Eppendorf China
14. Claire Ma, Marketing Director Eppendorf China
15. Stella He, Human Resource BP Eppendorf China
16. Lisa Zhang, Vice President of PEDZ Investment Development (Group) Co., Ltd

Online participated among others:
Wilhelm Plüster, CTO Eppendorf
Charis Chen, TCC Eppendorf
Jürg Dübendorfer, Consultant Dr. Jörg Dübendorfer Consulting
Andreas Eymann, Finance Transformation Lead Eppendorf
Michael Fehse, Process Support & Digitalization Eppendorf
Marlene Jentzsch, Division Separation & Instrumentation Eppendorf
Amadeus Kurz, Global Real Estate Eppendorf
Santhosh Tantzscher, Legal Counsel Eppendorf
Kathleen Wagner, Consultant Pro Task Force

The new location is 3km outside Pinghu in the PEDZ and some 90 km south of Shanghai. It is part of Eppendorf's China strategy and will place the Group's production operations closer to Chinese customers. Wilhelm Plüster, CTO of Eppendorf is convinced that "By taking this step, Eppendorf will not only strengthen its supply chains in a world filled with uncertainties but will also reduce the company's logistics and transport costs." The new plant is scheduled to start production in the first quarter of 2024.
Source: Eppendorf SE
Disclaimer: You agree that B2Bioworld is not responsible and will not be held liable for any third party content on its sites or any third-party content, products or services available on other web sites accessed through links from B2Bioworld sites. Links to third-party sites are for your convenience only, and their inclusion on B2Bioworld\'s sites does not imply any endorsement, guarantee, warranty or representation by B2Bioworld.
Other articles recommended
B2Bioworld offers you background information
Christopher Klenk, CEO of Krones Group
Uncertainty about Rospatent
Prof Sadao Nagaoka, Institute of Innovation Research, and Chief Policy Adviser to the Japanese Government