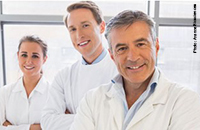 Avance Biosciences: Custom Assay Development
September 2020. Avance Biosciences is specialized in custom assay development, assay validation, and sample testing using Next Generation DNA Sequencing, Sanger Sequencing, Quantitative PCR, and other biological methods to support Drug Development and Manufacturing.
When you partner with Avance Biosciences, we give you undivided attention, share our experience and knowledge, and respond to your needs in a timely manner. Contact our technical staff to discuss how we can support you in your project!
Source: Avance Biosciences, Inc.
Disclaimer: You agree that B2Bioworld is not responsible and will not be held liable for any third party content on its sites or any third-party content, products or services available on other web sites accessed through links from B2Bioworld sites. Links to third-party sites are for your convenience only, and their inclusion on B2Bioworld's sites does not imply any endorsement, guarantee, warranty or representation by B2Bioworld.
Other articles recommended
B2Bioworld offers you background information
Christof von Kalle, at the time Head of Germany's National Center for Tumor Diseases on new approaches to achieve tangible clinical results – or to manoeuvring into dead ends
Danish Harboes Brewery is placing a bet on savings
Worldwide evolution of the market and upcoming business opportunities