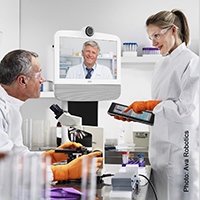 Ava Robotics: Telepresence for Laboratories and Clean Rooms
February 2023. Those who work in laboratories and clean rooms work hard to ensure they are kept sterile and clean. While necessary, this can be a time-consuming process for employees entering and leaving these spaces repeatedly during the day. Due to the risks of potential contamination, companies often limit tours by customers and other visitors.
Ava brings people right into a laboratory or a clean room without compromising the space. With Ava, remote visitors can easily move around as if they were there in person, observing the work being done and speaking with employees. But Ava goes far beyond use by customers or employees, allowing remote experts in quickly to address any concerns or to collaborate on a project.
Advanced Mobility and Enterprise Class
Ava features intelligent, autonomous navigation. Users simply specify a destination, and Ava automatically moves to the desired location. Built-in collision avoidance allows the robot to safely navigate around people and objects without bumping into them.
Ava delivers HD video up to 1080p along with full-fidelity audio and is compatible with any standards-based videoconferencing infrastructure. Embedded enterprise-grade security (including encryption, secure HTTPS management, password protection) makes Ava a trusted part of your corporate IT infrastructure.
Fully-autonomous means more user-friendly mobility
Implementing more "hands-free," safer ways to bring people together is a challenge. Ava can go, autonomously, exactly where you want to be. Ava telepresence robots:
• Learn and autonomously navigate your environment
• Ensure early or on-time arrival for meetings with scheduling options
• Self-dock automatically to charge between sessions
• Connect with remote user devices, including smartphones, tablets and computers via the Ava app or browser experience for always-on access.
Source: Ava Robotics, Inc.
Disclaimer: You agree that B2Bioworld is not responsible and will not be held liable for any third party content on its sites or any third-party content, products or services available on other web sites accessed through links from B2Bioworld sites. Links to third-party sites are for your convenience only, and their inclusion on B2Bioworld\'s sites does not imply any endorsement, guarantee, warranty or representation by B2Bioworld.
Other articles recommended
B2Bioworld offers you background information
Currying Favour, Muddling Through, or Enligthenment. Accompanied by the interview with Rebecca Johnson, Chief Scientist U.S. National Museum of Natural History Smithsonian Institution
Scientist Irene Coin about labs which impacted her research at Universities of Padua (IT), Leipzig (DE), Biodesign Institute (AZ,US), or the Salk Institute(CA,US)