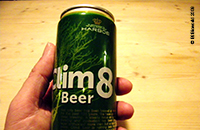 Skål! GM-beer served with eco-emotions
September 2009. Largely Ignored by most consumers and dissimulated by marketing most Western brewers have been adopting modern biotechnological products and processes for a number of years following their Asian counterparts (e.g. Japanese Hayashibara or Kirin).
Stock-quoted Danish Harboes Bryggeri is one of the very few to drop its guard in Europe. The brewer led by German-born Bernd Griese (see photo) announced publicly to use genetically engineered microbial enzymes to substitute malt with barley. Unlike competitors calling themselves eco-friendly, the Danish-German brewer claims its new drink to save 8g CO2 per unit. Others from the industry are vigourously contesting that. Form your own opinion. Know objections. Read the details.
Includes: CO2-savings per ton of malt replaced by barley; Key data and financials Harboes Group 2008/2009.Reading time: 3 min
Read Now:
1,00 EUR (incl. 7% VAT)




Other articles recommended
B2Bioworld offers you background information
Dairy Cattle as Bioreactor
A self-critical industry survey points to shortcomings on the supply side
Jörg Riesmeier, Direvo's New COO on near- to mid-term strategies
Business Strategies for Food, Feed, and Biofuels from Algae. James H Flatt, Chief Technology Officer Synthetic Genomics