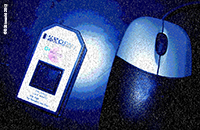 Patient-centered Precision Care
December 2012. While molecular technologies regularly inform routine medical decisions – at least in larger clinical laboratories or academic health centres, there is a notable lack of bringing "for research use only" directly to the patient.
Michael Christman, the late President of the Coriell Institute for Medical Research at Camden, New Jersey (US) talks about some tricky issues of turning research on genotyping into healthcare routines. A major move is partnering with the U.S. Airforce, one of the nations' largest healthcare payors, and IBM ... but not with Google.
Includes updated facts and figures about Coriell; the current list of diseases to be reported to genotyped volunteers; a map of Coriell's worldwide customer base.Reading time: 11 min
Read Now:
1,00 EUR (incl. 7% VAT)




Other articles recommended
B2Bioworld offers you background information
A systems look at DNA sequencing for personalized medicine by Leroy Hood, President Institute for Systems Biology, Seattle (US)
Walter Kolch on setting the Irish Institute apart from other System Biology in the world
Christof von Kalle, at the time Head of Germany's National Center for Tumor Diseases on new approaches to achieve tangible clinical results – or to manoeuvring into dead ends
Marc Feiglin, at the time Chief Technology Officer Life Sciences at Tecan on electrowetting technology, blood diagnostic devices and prospects of clinical microfluidics