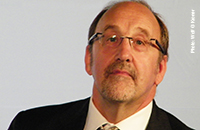 Industrial Bioscience: Solutions Marketing Never Dreamt of…
November 2013. Agrochemical and seed companies have long thought of themselves as 'spider in the web'. Today downstream customers like wholesalers, manufacturers of agro-equipment, or insurers have a much greater say, if and which of many innovations in bioscience reach the farming sector. How does such an eco-system affect strategy and day-to-day operations of Bayer CropScience? David Nicholson, formerly in the pharmaceutical industry and Head of R&D Bayer CropScience offers fresh insight and a substantiated assessment of what the company's mid-term future might look like.
Includes a comment on how Bayer's ecosystem is changing with regard to applying herbicides and other agrochemicals, and why a pharma professional might be a good choice to innovate CropScience.Reading time: 9 min
Read Now:
1,00 EUR (incl. 7% VAT)




Other articles recommended
B2Bioworld offers you background information
A Practice View from Crop Research and Breeding with methods competitive with CRISPrs - even in 2021.
Interview with Hugh Grant, at the time CEO of the company
Michiel van Lookeren-Campagne, Head of Research Bayer BioScience (today with Australia's CSIRO) on anchoring in Belgium, China, or the United States
Nobel Laureate Prof. Christiane Nüsslein-Volhard Warns of GMO-populism and researchers not standing up