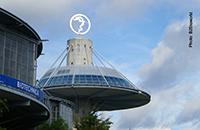 Being the Truffle Pig of Industries Worldwide
September 2010. Biotechnica reached 25 years. Stephan Kühne, Executive of Deutsche Messe's Board about sniffing market opportunities and carving out profitability.
Biotechnica is not the largest show in Deutsche Messe's portfolio, but it holds promise – even after 25 years. Stephan Kühne, Executive of the Board sees it as a successful example to sniff market opportunities of Deutsche Messe. Why promising partners were not retained for further collaboration, and about flagship companies of the laboratory industry which were enticed away from competitors, and expanding human resources in South America, China, India, and Turkey.
Includes DMAG key financials 2007-2009 and a comparison between its key fairs 2009.Reading time: 6 min
Read Now:
1,00 EUR (incl. 7% VAT)




Other articles recommended
B2Bioworld offers you background information
Jochen Koeckler, CEO of Deutsche Messe AG on restructuring trade fair business
Jochen Köckler of Deutsche Messe AG about strategy after losses and global business
The CEO of Köttermann with insights on manufacturers, architects, lab planners, and competitors from IKEA to do-it-yourself. Complemented with data on U.S. laboratory market and Domains of Japan's Analytical Instrument Manufacturers