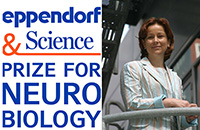 Eppendorf / Science Magazine: Time to Apply for the Neurobiology Prize 2021
January 2021. Eppendorf and Science magazine are now accepting applications for the 2021 Eppendorf & Science Prize for Neurobiology. This annual international research prize of US$25,000 is awarded to young scientists for their outstanding contributions to neurobiological research based on methods of molecular and cell biology.

Researchers who are not older than 35 years are invited to apply by June 15, 2021. The winner and finalists are selected by a committee of independent scientists, chaired by Science's Senior Editor, Dr. Peter Stern.

Christoph Zimmerman, Postdoctoral Fellow at Princeton Neuroscience Institute, New Jersey, USA was the winner 2020 with research on the neural circuits that govern thirst and drinking behaviour.
Source: Eppendorf AG
Disclaimer: You agree that B2Bioworld is not responsible and will not be held liable for any third party content on its sites or any third-party content, products or services available on other web sites accessed through links from B2Bioworld sites. Links to third-party sites are for your convenience only, and their inclusion on B2Bioworld's sites does not imply any endorsement, guarantee, warranty or representation by B2Bioworld.
Other articles recommended
B2Bioworld offers you background information
Ulrich Betz, Vice President Department Head Innovation & Entrepreneurship Incubator; Merck Biopharma
Hanne Leth Andersen, Professor of University Pedagogy invites to a light-hearted and thought-provoking tour de ronde