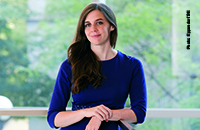 Eppendorf & Science Prize: Research on neural dynamics rewarded 2022
November 2022. American scientist Ann K Kennedy, Ph.D., Assistant Professor at Northwestern University, Chicago, USA won the 2022 Eppendorf & Science Prize for Neurobiology for her work on the neural population dynamics that generate and maintain our emotions and behavioral drives. By comparing the activation of neurons in multiple deep brain regions, she identifies differences between them that point to the role each region plays in shaping the drives behind survival behaviors such as fighting or fleeing.
Kennedy collaborates with experimentalist researchers to characterize the activity of hypothalamic neurons implicated in the control of essential survival behaviors such as aggression, fear and reproduction (e.g., Kennedy 2015). While neurons in some hypothalamic nuclei have clear responses to specific behaviors, other regions show only a weak correlation with an animal's actions. Kennedy showed how the complex responses of individual neurons give rise at the population level to a graded signal that persists over time and escalates in intensity with an animal's level of aggression. She also demonstrated the role of this persistent activity in helping to keep animals on their guard following exposure to a predator threat. This work helps us understand how our emotional states arise from the activity of groups of neurons and how they influence our actions.

Reference
Kennedy AK (2015): Representation and learning in cerebellum-like structures. Thesis, Columbia University.
Source: Eppendorf SE
Disclaimer: You agree that B2Bioworld is not responsible and will not be held liable for any third party content on its sites or any third-party content, products or services available on other web sites accessed through links from B2Bioworld sites. Links to third-party sites are for your convenience only, and their inclusion on B2Bioworld\'s sites does not imply any endorsement, guarantee, warranty or representation by B2Bioworld.
Other articles recommended
B2Bioworld offers you background information
Walter Kolch on setting the Irish Institute apart from other System Biology in the world
MRC Scientist Kelly Nguyen wins prestigious Eppendorf Award. Unresolved questions remain, while Brexit is looming in UK research.
On voice-assistants, clinical trials, pathologies, and the COVID-19 bet. Includes interview with Guy Fagherazzi, Luxembourg Institute of Health