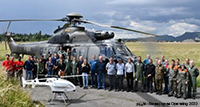 SwissDrones: Partnering with NEOC for Aerometric Sensing of Radiation
June 2020. The SwissDrones team has been participating in the regular yearly aeroradiometric surveys by the National Emergency Operations Centre (NEOC), a division of the Federal Office for Civil Protection in Switzerland. The SDO 50 V2 has been deployed successfully together with the Super Puma and ground-based vehicles. The SwissDrones platform has successfully shown its clear use case for rapid and cost-effective aerial data gathering, in particular in inaccessible areas.
SwissDrones offers the only UAV in the market, which is capable of lifting more payload than its own empty weight. The product offers market-leading specifications, easy operability – requiring only a two-person crew – and readiness to fly in just 15 minutes. Furthermore, its compact configuration allows users to easily transport it in an SUV or van.

Federal Office for Civil Protection NEOC
Added by B2Bioworld
The NEOC runs its own radioactivity monitoring network – NADAM. It consists of 76 stations located at the MeteoSwiss weather stations throughout Switzerland, which transmit the measured values at ten-minute intervals back to the NEOC. If the threshold value (1000 nanosievert per hour [nSv/h]) is exceeded, an alarm is automatically raised. Depending on the location, the average values vary between 80 and 260 nanosievert per hour (nSv/h). This is mainly due to differences in the level of natural radiation. Key factors are, on the one hand, the geological composition of the ground, and on the other hand, the intensity of cosmic radiation. These values increase the higher you are above sea-level. Therefore the stations in the Alps (e.g. Jungfraujoch) are measuring much higher values. The highest natural radioactivity values in Switzerland are measured at the Piz Giuv, north of Sedrun. The maximum values are approximately 500 nSv/h.
At all NADAM stations, the proportion of artificial radiation amounts to only a few percent. The artificial part mainly comes from 1986 Chernobyl reactor accident and from nuclear weapons tests in the 1960s.
The onset of rain can lead to a temporary increase in the measured values as a result of the natural radioactivity being rinsed from the air. The intensity of the rainfall, and the duration of the previous dry period are decisive here. In the winter months, the snow cover can reduce the proportion of ground radiation to such an extent that the measured values are below those observed in the long term.
Source: SwissDrones Operating AG; Bundesamt für Bevölkerungsschutz Nationale Alarmzentrale
Disclaimer: You agree that B2Bioworld is not responsible and will not be held liable for any third party content on its sites or any third-party content, products or services available on other web sites accessed through links from B2Bioworld sites. Links to third-party sites are for your convenience only, and their inclusion on B2Bioworld's sites does not imply any endorsement, guarantee, warranty or representation by B2Bioworld.