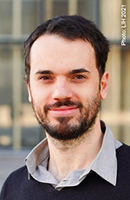 Luxembourg Institute of Health: Vocal biomarkers for diagnosis, risk prediction and remote monitoring
June 2021. The Luxembourg Institute of Health (LIH) announces the launch of CoLive Voice, a first-of-its kind digital health study that aims to advance the diagnosis, risk prediction and remote monitoring of various chronic conditions and symptoms by evaluating voice features. Leveraging breakthrough artificial intelligence approaches, the study will collect and analyse voice recordings in several languages from both the general population and people living with chronic or infectious diseases, to identify so-called 'vocal biomarkers'. CoLive Voice is led by the Deep Digital Phenotyping research unit of the LIH Department of Population Health (DoPH) and is set to run for up to 10 years.
"Though a Luxembourgish initiative, the strength of the study lies in its international dimension. Indeed, we expect the participation of over 50,000 individuals worldwide, contributing to making CoLive Voice a unique international multilingual audio databank to identify vocal biomarkers", concludes Dr Fagherazzi, Director of DoPH since January and Principal Investigator of CoLive Voice.
Human voice is a powerful communication medium that conveys feelings and emotions, but that can also immediately reflect the changes in an individual's health. This notion, coupled with the widespread adoption of digital tools and artificial intelligence in healthcare, makes a case for the use of voice-based technologies for diagnostic and medical purposes. Vocal biomarkers could soon be used in various contexts such as telemedicine purposes, telemonitoring of patients between clinical visits or to assess the effectiveness of a drug in a clinical trial. To this end, audio, clinical, epidemiological data and patient-reported outcomes need to be collected simultaneously and systematically via well-structured methodologies.
Source: Luxembourg Institute of Health, Centre de recherché public
Disclaimer: You agree that B2Bioworld is not responsible and will not be held liable for any third party content on its sites or any third-party content, products or services available on other web sites accessed through links from B2Bioworld sites. Links to third-party sites are for your convenience only, and their inclusion on B2Bioworld\'s sites does not imply any endorsement, guarantee, warranty or representation by B2Bioworld.
Other articles recommended
B2Bioworld offers you background information
The User as Stakeholder, Expert, Citizen, Consumer, and Patient.Thomas Szucs, Chairman of Swiss Helsana Group
Michael Christman, late President Coriell Institute on turning human genotyping research into healthcare routine
Analysis and in-depth interview with GAIA-X aisbl executives
Book Review - open access
Rudi Balling, Director Luxembourg Centre for Systems Biomedicine,on system theory and pitfalls of loose concepts in using technologies
A systems look at DNA sequencing for personalized medicine by Leroy Hood, President Institute for Systems Biology, Seattle (US)