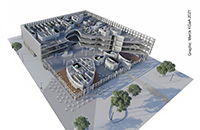 Merck KGaA: Synergies from complementing training and research infrastructures
July 2021. Merck plans to invest €270m at its global headquarters in Darmstadt by building a new Translational Science Center for its Healthcare business sector as well as a new Learning Center. The two construction projects are part of the €1bn investment package that Merck announced in March 2019 and plans to realize in Darmstadt by 2025.
The Translational Science Center for the Healthcare business sector will offer flexible ways of working coupled with the latest technology and equipment room for more than 500 scientists, who will conduct research in a wide variety of fields ranging from the identification of disease biomarkers to the development of targeted therapies. This € 200 million investment will give rise to an integrated, flexible-use laboratory building covering more than 30,000 m², that includes a café, a lecture hall, in vitro laboratories including a cell bank, as well as a modern and flexible knowledge environment.
The new Learning Center will enable Merck to house training facilities for all vocational training occupations in one spacious building. Seven floors with a surface area of more than 14,000 m2 will offer space for laboratories, seminar rooms and workshops, among other things. The building will create sufficient room and an attractive environment for 50 employees from the Vocational Training department in order to prepare the company's 600 apprentices for the workforce and their assignments within the company. Moreover, the Learning Center will be an important location for advanced training at Merck. The company is thus investing further to qualify its employees for the changing world of work. The building, which involves an investment of € 70 million, is expected to be ready for occupancy in 2024.



Source: Merck KGaA
Disclaimer: You agree that B2Bioworld is not responsible and will not be held liable for any third party content on its sites or any third-party content, products or services available on other web sites accessed through links from B2Bioworld sites. Links to third-party sites are for your convenience only, and their inclusion on B2Bioworld's sites does not imply any endorsement, guarantee, warranty or representation by B2Bioworld.
Other articles recommended
B2Bioworld offers you background information
Scientist Irene Coin about labs which impacted her research at Universities of Padua (IT), Leipzig (DE), Biodesign Institute (AZ,US), or the Salk Institute(CA,US)
Ulrich Betz, Vice President Department Head Innovation & Entrepreneurship Incubator; Merck Biopharma