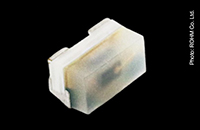 ROHM: new optical sensor PICOLED
November 2020. The new CSL1501RW is the infrared LED with a wavelength of 860nm. It is a 1006 (0402) size ultra-compact product, and is ideal as a light source for eye tracking of devices equipped with VR / MR / AR functions, such as headsets in the industrial field, and head-mounted displays.
Features:
> Side view type with high design flexibility
> Contributes to long-term operation with low power consumption
> Ultra-compact package that ensures high reliability, for example with operating temperatures between -40 and 85°C (min to max).

PICOLED provided in Europe by ROHM Semiconductor GmbH.
Source: ROHM Co. Ltd.
Disclaimer: You agree that B2Bioworld is not responsible and will not be held liable for any third party content on its sites or any third-party content, products or services available on other web sites accessed through links from B2Bioworld sites. Links to third-party sites are for your convenience only, and their inclusion on B2Bioworld\'s sites does not imply any endorsement, guarantee, warranty or representation by B2Bioworld.