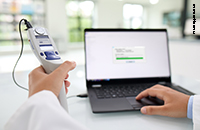 Eppendorf: More Efficient Use of Time for Service Technicians
August 2021. With the Eppendorf Pipette Software Update Tool, Eppendorf introduces a new way for its liquid handling customers to update the software of their electronic pipettes or multi-dispensers on their own (without a service technician), for free and in just a few minutes.
The new tool enables electronic pipette users to always stay up-to-date with the latest software improvements and new features for their Eppendorf Xplorer®, Xplorer plus, Xplorer plus Move It® pipettes and/or Multipette® E3 and E3x multi-dispensers.
A simple process to update in minutes
To perform an update, customers just need a Windows PC with internet connection, a micro-USB cable and the Eppendorf pipette or multi-dispenser to be updated. When executing the Software Update Tool, it connects to the internet and checks for the latest software update on the Eppendorf servers. If an update is available, it can be carried out in just a few minutes.
Benefit from the latest improvements
The latest software improvements for Eppendorf pipettes include an improved battery capacity measurement, improvements in the read & write function of user settings and new features for the Eppendorf Xplorer pipette line-up.
Source: Eppendorf AG
Disclaimer: You agree that B2Bioworld is not responsible and will not be held liable for any third party content on its sites or any third-party content, products or services available on other web sites accessed through links from B2Bioworld sites. Links to third-party sites are for your convenience only, and their inclusion on B2Bioworld's sites does not imply any endorsement, guarantee, warranty or representation by B2Bioworld.
Other articles recommended
B2Bioworld offers you background information
Christine Lang, Co-Chair of the German Bioeconomy Council describes the approach and outlines perspectives; introduction by B2Bioworld
WHO and ILO stimulate a debate about taken-for-granted assumptions.