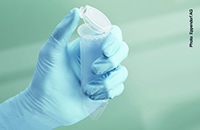 Eppendorf: It's SnapTec® – fast and safe sample handling … single-handed
October 2021. The new Eppendorf Conical Tube SnapTec 50 offers all the advantages of classic conical tubes 50 mL. The decisive, innovative detail is the SnapTec closure. A snap-on lid that can be opened and closed with one hand and is firmly attached to the vessel so that it does not come into contact with the laboratory bench. The risk of cross-contamination is reduced and confusion with other lids is eliminated. In addition, the SnapTec 50 vessel is autoclavable, which opens up further application possibilities. Its precise dimensions ensure maximum compatibility with centrifuge rotors, mixers and shakers.
Typical applications for conical tubes are mainly found in cell culture, bacterial culture, and protein or DNA/RNA extraction. Most important in these applications is contamination-free handling and a smooth workflow. Fast and safe opening and closing as well as autoclavability of such vessels contribute significantly to meeting these requirements.
Less can be more sometimes.
The guaranteed nominal volume of the Eppendorf Conical Tubes SnapTec 50 is - due to technical reasons - 45 mL which covers more than 75 % of all its main applications. This new tube is available in Eppendorf Quality ™, PCR clean and Sterile (free of pyrogens, DNase, RNase, human and bacterial DNA).
Source: Eppendorf AG
Disclaimer: You agree that B2Bioworld is not responsible and will not be held liable for any third party content on its sites or any third-party content, products or services available on other web sites accessed through links from B2Bioworld sites. Links to third-party sites are for your convenience only, and their inclusion on B2Bioworld's sites does not imply any endorsement, guarantee, warranty or representation by B2Bioworld.
Other articles recommended
B2Bioworld offers you background information
Marc Feiglin, at the time Chief Technology Officer Life Sciences at Tecan on electrowetting technology, blood diagnostic devices and prospects of clinical microfluidics
On voice-assistants, clinical trials, pathologies, and the COVID-19 bet. Includes interview with Guy Fagherazzi, Luxembourg Institute of Health