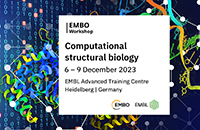 EMBO Workshop 'Computational Structural Biology': Sign-up Now
August 2023. The field of computational structural biology is undergoing a revolution. AlphaFold, a program based on Artificial Intelligence (AI), has transformed the structural modeling of proteins and protein complexes by reaching accuracy similar to experimental structures. Over 200 million structural models have already been released in AlphaFold Database.
With this "Cambrian explosion" of computational structural biology, this event aims to become a so-far missing major dedicated conference. Our conference will update on the impact of AI-based structure prediction, provide a forum to present new methods and applications, build a wider community by integrating the new scientists now massively joining the field, and open a platform to discuss future directions and opportunities.
Session topics for this conference
• Modeling proteins and nucleic acids
• Modeling complexes
• Structural dynamics
• Structure-based function assignment and analysis
• Structural bioinformatics and experiments
• Applications: drug, protein design, and more
• Structural systems biology

If you want to join, submit your abstract by 13 September 2023 and/or register by 25 October 2023.
Source: European Molecular Biology Laboratory
Disclaimer: You agree that B2Bioworld is not responsible and will not be held liable for any third party content on its sites or any third-party content, products or services available on other web sites accessed through links from B2Bioworld sites. Links to third-party sites are for your convenience only, and their inclusion on B2Bioworld\'s sites does not imply any endorsement, guarantee, warranty or representation by B2Bioworld.
Other articles recommended
B2Bioworld offers you background information
Meeting safety AND performance criteria despite puzzles
On voice-assistants, clinical trials, pathologies, and the COVID-19 bet. Includes interview with Guy Fagherazzi, Luxembourg Institute of Health
Gauging political claims and educational objectives for a digital civil society. Extended Book Review. Free access.
and being discovered by industry....