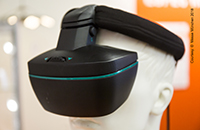 Learning Fitted to Technologies, or Technologies for Learning
March 2018. How do you know which tech tools support the results you want to get out of (self-) instruction?
Advanced technologies designed for machine learning and e-learning tools promise to bridge digital divides between urban and rural populations, industrial and developing countries, foster economic growth, even innovation. What kind of learning is enabled with email questionnaires, pedagogical TV emissions, YouTube videos, technically popped-up lectures, machine-learning tools, virtual reality goggles of Oculus Rift (Facebook), DJI Technology, or others? Get to know learning concepts embodied in technologies, and be aware when a tool falsely claims to be the teacher.
Hanne Leth Andersen, Professor of University Pedagogy at Danish Roskilde University invites readers of B2Bioworld to a light-hearted and thought-provoking tour de ronde about productive tech solutions, much ado about e-learning, or teachers' needs still unmet by developers of learning tools. In conversation with Wolf G Kroner.Reading time: 22 min
Read Now:
1,50 EUR (incl. 7% VAT)




Other articles recommended
B2Bioworld offers you background information
Ulrich Betz, Vice President Department Head Innovation & Entrepreneurship Incubator; Merck Biopharma
Mario Trapp, Executive Managing Director Fraunhofer Institute for Cognitive Systems on operating safety provisions, and in silico vs real world learning