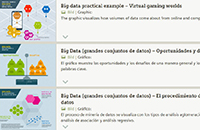 Siemens-Stiftung: Resources for Homeschooling
March 2020. Siemens-Stiftung calls attention to its media portal for STEM education. In a time of severely restricted public mobility and shutdown of schools due to corona virus pandemic homeschooling is a viable alternative for which the foundation's portal offers more than 4,000 OER *) multimedia materials for online teaching and learning. The materials are available in several languages and proven for digital courses arranged for teachers and students. In addition Siemens-Stiftung provides didactic advice, and ideas for applying different teaching methods though these are mainly in German. The media portal is accessible here.
Siemens-Stiftung is an international foundation incorporated under the German civil code with an endowment of €390m. It is engaged promoting high-quality education as well as understanding of culture with a geographical focus on Europe, Africa and Latin America. Karolin Timm-Wachter / English text WK
Footnote/s
+) OER stands for Open Educational Resources. A useful introduction has been compiled by Lou McGill available here.
Source: Siemens-Stiftung
Disclaimer: You agree that B2Bioworld is not responsible and will not be held liable for any third party content on its sites or any third-party content, products or services available on other web sites accessed through links from B2Bioworld sites. Links to third-party sites are for your convenience only, and their inclusion on B2Bioworld\'s sites does not imply any endorsement, guarantee, warranty or representation by B2Bioworld.
Other articles recommended
B2Bioworld offers you background information
Hanne Leth Andersen, Professor of University Pedagogy invites to a light-hearted and thought-provoking tour de ronde
Ulrich Betz, Vice President Department Head Innovation & Entrepreneurship Incubator; Merck Biopharma