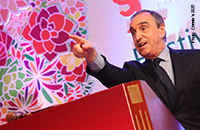 Christies's: Healing Arts Auction to support COVID-19 response
October 2020. The Healing Arts Auction series is unveiled by Christie's, the WHO Foundation and UN75, a cultural call-to-action to support a global COVID-19 response through the arts. As part of The Future is Unwritten's initiative to engage the international art world in UN priority areas, and World Health Organization (WHO), the auction series aims to increase awareness around a global path to recovery and raise critical funds to mobilize artists and health professionals in support of communities most vulnerable, at-risk and with the weakest health systems to act effectively in response to the pandemic.
All proceeds from this initiative will benefit the WHO Foundation, supporting the urgently needed mental health response to the pandemic through the applied use of arts in health-giving and recovery; and The Future is Unwritten's Artist Response Fund, supporting artist-led projects that directly facilitate community healing and healthcare messaging in the aftermath of the pandemic.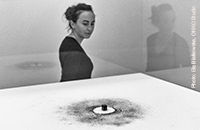 The Healing Arts Auctions in collaboration with Christie's will run over the course of a year, with works to be offered in a number of sales across a wide range of genres. The first work to come under the hammer will be Magnetism (2012, estimate: £80,000 - £120,000; [€88,000-€132,000; $104,000-$155,000; CHF95,000–CHF143,000]) by Ahmed Mater, appearing in the November Middle East Contemporary Art Sale in London. One of his most important pieces to date, Mater fuses art, science and the concept of identity and religion, creating one of the 21st Century's most iconic cultural images from the Islamic world. The central focus of the piece is a cuboid magnet that resembles the black draped Kaʿbah, the central element of the Meccan rites, considered by Muslims everywhere to be the most sacred place on Earth. Around the cube are spiral patterns made of tens of thousands of particles of iron evoking the Hajj, an annual Islamic pilgrimage to Mecca, that include a series of rituals like walking counter-clockwise seven times around the House of God. Mater's counterpoint of square and circle, whirl and cube, of black and white, light and dark, places the primal elements of form and tone in dynamic equipoise.
Source: Christie's International plc; World Health Organization
Disclaimer: You agree that B2Bioworld is not responsible and will not be held liable for any third party content on its sites or any third-party content, products or services available on other web sites accessed through links from B2Bioworld sites. Links to third-party sites are for your convenience only, and their inclusion on B2Bioworld's sites does not imply any endorsement, guarantee, warranty or representation by B2Bioworld.