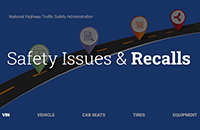 Hyundai and NHTSA conclude engine inquiry
November 2020. Hyundai Motor America has resolved an inquiry by the National Highway Traffic Safety Administration (NHTSA) regarding the timeliness and scope of its 2015 and 2017 recalls involving 2011-2014 Sonata and 2013-2014 Santa Fe Sport vehicles. These recalls addressed manufacturing issues that could lead to bearing wear and engine failure.
As part of the agreement, Hyundai will pay a cash penalty of $54 million, make investments of $40 million to improve its safety operations and be subject to a possible deferred payment of $46 million dependent upon Hyundai's compliance with a NHTSA Consent Order. The investments in its safety operations include building a safety field test and inspection laboratory in the U.S. and implementing new IT systems to better analyze safety data and identify potential safety issues.
Hyundai has elevated its customer service response for recalls with dedicated staff and resources. Consumers should always check for open recalls. Hyundai owners can input the VIN number in the recall section of the HyundaiUSA.com website or on the NHTSA website to determine if there are any recall repairs needed on their vehicle.
Source: Hyundai Motor America Corp.
Disclaimer: You agree that B2Bioworld is not responsible and will not be held liable for any third party content on its sites or any third-party content, products or services available on other web sites accessed through links from B2Bioworld sites. Links to third-party sites are for your convenience only, and their inclusion on B2Bioworld's sites does not imply any endorsement, guarantee, warranty or representation by B2Bioworld.
Other articles recommended
B2Bioworld offers you background information
Mario Trapp, Executive Managing Director Fraunhofer Institute for Cognitive Systems on operating safety provisions, and in silico vs real world learning
Meeting safety AND performance criteria