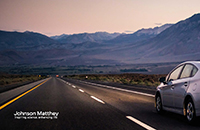 JohnsonMatthey: Platinum Group Metals Market Report
May 2021. The PGM Market Report is giving an outlook and a review of the supply and demand of platinum group metals (pgms). It gives an insight into each of the platinum, palladium, rhodium, ruthenium and iridium markets. It also covers the effect of the pandemic and the expected recovery across the markets.
This edition includes a special feature on 'Green hydrogen for a net zero future'. With net-zero commitments made in the UK, the EU, China and the USA, there will be a much greater requirement of hydrogen as an alternative to fossil fuels, and this feature details how pgms will play an important role in the hydrogen economy.
Source: Johnson Matthey plc
Disclaimer: You agree that B2Bioworld is not responsible and will not be held liable for any third party content on its sites or any third-party content, products or services available on other web sites accessed through links from B2Bioworld sites. Links to third-party sites are for your convenience only, and their inclusion on B2Bioworld\'s sites does not imply any endorsement, guarantee, warranty or representation by B2Bioworld.
Other articles recommended
B2Bioworld offers you background information
Masoud Abka, Business Developer for MIDHCO and Member of the Board of IMIDRO on industry strategy and the business case for foreign investors
Giorgio Squinzi, at the time President of Italy's Confindustria and construction chemicals corporation MAPEI SpA