BioM: Bavarian Biotech Report 2020/21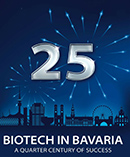 • 44,000 employees in the Bavarian biopharma sector
• 14 new companies, settlement of US vaccine manufacturer Moderna
• • Oncology remains most important indication in drug development
• • Financing of numerous companies amounting to almost 400 million euros
• • Review of successful 25 years of BioM and Munich Biotech Cluster

July 2022. In its new report Biotech in Bavaria 2021/22, BioM Biotech Cluster Development GmbH has analyzed the developments and achievements of the Bavarian biotechnology sector.
Together, the pharmaceutical, biotech and other companies assigned to the sector employ around 44,000 people in Bavaria with a slight shift from the pharmaceutical sector to biotech and other companies assigned to the sector.
With a total of 22,000 employees, the 289 (+ 5%) biotech companies are the most important employers in the sector. This represents an increase of 1,000 employees compared to the previous year. International companies employed a total of 15,000 people at their sites (+ 7%), while small and medium-sized Bavarian biotech companies remained stable in terms of employment.
In 2021, a total of 13 new companies were recorded, in addition to a new settlement of the American vaccine manufacturer Moderna in Munich. The Bavarian industry has an impressive pipeline of projects that are in the preclinical phase (41) or even in the clinical phase (118). A total of 37 products are currently in clinical phase I, 53 in phase II and 28 in phase III. As in previous years, cancer therapeutics account for the largest share of compounds in clinical development with a total of 56 projects, followed by therapeutics for autoimmune diseases with 14 projects. As is the case throughout Germany, the product pipeline in Bavaria is dominated by biopharmaceuticals and here by the active ingredient group of recombinant antibodies.
In total, Bavarian companies were able to raise almost 400 million in capital last year.
The overall development of the industry since its foundation is shown by the review of the success story "25 years of BioM and Munich Biotech Cluster". With the support of the Biotech Cluster Management Organization, the life science region has developed into one of the most successful biotech clusters in Europe. The Bavarian Biotech Report highlights this success story and other topics in interviews with various players and their perspectives on the industry.
Source: BioM Biotech Cluster Development GmbH
Disclaimer: You agree that B2Bioworld is not responsible and will not be held liable for any third party content on its sites or any third-party content, products or services available on other web sites accessed through links from B2Bioworld sites. Links to third-party sites are for your convenience only, and their inclusion on B2Bioworld\'s sites does not imply any endorsement, guarantee, warranty or representation by B2Bioworld.