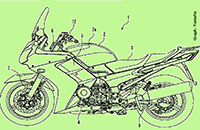 Yamaha's Brazilian Flex-Fuel Bike
Years too late to re-program Honda Moto
April 2014. Yamaha launches its own version of a flex-fuel motorcycle in the Brazilian market years after Honda Moto. What are prospects of a Me-too motorcycle? Why does Yamaha arrive late with higher prices to a collapsed market? Herbert Diess of BMW argues for e-mobility. Will engineers betting on combustion motorcycles have the last laugh?
Includes technical view on internal combustion engines adjusted to ethanol mixes, an analysis of Brazil's motorcycle market 2008 to 2013 (compared to other transport vehicles), and a tour de ronde passing DAFRA, TRAXX, Suzuki, Brasil & Movimento, Kasinski, Harley Davidson and others.April 2014.Reading time: 9 min
Read Now:
1,00 EUR (incl. 7% VAT)




Other articles recommended
B2Bioworld offers you background information
Business Strategies for Food, Feed, and Biofuels from Algae. James H Flatt, Chief Technology Officer Synthetic Genomics
David Nicholson, CSO Bayer CropScience on Hidden Potentials, Re-valuation of IP Assets, and Substantial Changes in R&D
Meeting safety AND performance criteria despite puzzles
Open letter by Esko Aho, Marc Palahí, and Göran Persson - open access
Rainer Martens, at the time COO MTU AERO Engines on novel propellants and "more pressing topics"
Giorgio Squinzi, at the time President of Italy's Confindustria and construction chemicals corporation MAPEI SpA